GOODBYE TO 2017
Happy New Year to everyone and I can't believe 2018 is here already. I'm not sure what happened to 2017 - one minute it was March and the next, we were celebrating Christmas! I thought it was because I was getting old that time was flying, but even younger people commented on how quickly the year had zoomed by.
IT WAS THE BEST OF TIMES
Last year was a bit of a watershed year for me. It had a lot of good times, but there were a few not-so-great moments thrown into the mix. As far as the good times go, we had some great catch-ups with our kids and our lovely little granddaughter - who just keeps growing and getting more delightful by the day.
We both had more than enough work to keep us busy and pay the bills. This is a bit of a novelty for us because there have been many years when work has fluctuated and things have been a lot tighter financially. The bonus of living frugally is that we aren't carrying any debt into Midlife and we don't need to earn as much to pay our way - such a relief.
We managed to fit in a lovely "overseas" break at Rottnest for a week of chilling and out and relaxing. So nice to go somewhere close to home but completely different.
IT WAS THE WORST OF TIMES
Work
In amongst all the nice stuff, there have been a few hiccups along the way. My "Perfect Job" brought with it some major drama from one of my work colleagues, and a crisis point where I thought I was going to have to throw in the towel for my sanity's sake. Fortunately my No Complaining Challenge triggered a bit of an epiphany for me and gave me a solution to my problem.
I've managed to keep my job by reducing my hours in the office from three days a week to two days a week from now on. I may pick up a bit of work from home to keep me busy, but I'm limiting my face to face contact time at work to a more manageable level. This solution has lifted my spirits immeasurably and I'm looking forward to the year ahead.
Relationships
The other fallout for 2017 was me managing to upset a close family member with one of my blog posts. This caused a distancing and consequently, real heartache. It's been a valuable lesson in realizing that you never know what another person is thinking and how they will interpret a situation. On the other hand I've also learned that it's not all on me - we choose our reactions and our attitudes and we also choose whether we are going to be offended by something or not.
After several months the rift has been healed (mostly) but with new insights and a change to our boundaries - maybe a good thing, maybe not - but it is what it is. Life can be messy at times but if we truly care for each other, we find a way to middle ground again. It has also reminded me that I still have a lot to learn about not tying my happiness into external relationships and situations - I need to get better at finding happiness within myself so I can weather the storms that come my way.
HASTA LA VISTA 2017
So, I'm bidding goodbye to 2017 and looking forward to what 2018 is going to bring.
Ross Geller sums up my goodbye to 2017 with this gesture I hadn't seen for years - it made me smile :)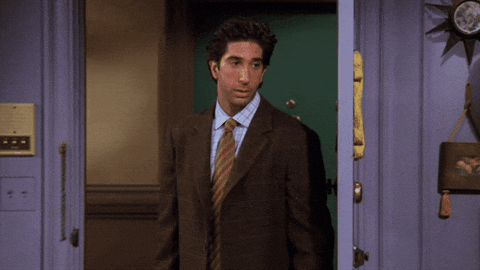 I've chosen my word for the year - that's my next post - and it stems from coming to terms with the good and the bad in life and moving forward. Life is constantly evolving and I'm happy to see where I'm heading next.
WHAT ABOUT YOU?
Do you look back on 2017 with regret or joy - or a bit of both? Are you embracing all that 2018 will hold or is it a bit daunting? And, like me, are you learning to be responsible for your own happiness and not tying it to other people and situations?
To keep up to date with my posts, feel free to add your email into the spot especially for it on my sidebar and I'd love you to follow me on Facebook