IF WE WERE HAVING COFFEE
It's time to celebrate the end of June, so why not share another virtual cup of coffee with me while I update you on what's been going on in my life lately. I love a good 'Taking Stock' blog post, so I hope you'll humour me and sit a while as
I share my news.
I have another great line up next month - all locked in and ready to go. I hope you'll be popping in for a visit on Saturdays to catch up with the next group of Midlife bloggers who are sharing a little of themselves (I even have a surprise non-blogging guest writer who was game enough to share their thoughts).
AWARDING
Occasionally I go through a bit of a lull and I question whether I should be doing this whole blogging thing. Then a lovely surprise comes along and this month I was delighted to find that I'd received not one, but TWO blogging awards!
The first award was
Top 10 Blogs for Women Over 50 to Follow in 2018
and I shared that honour with a Sue, Jo and Kathy (three great fellow Aussie bloggers!)
The second award was 16 Women Over 50 Bloggers - also shared with several fellow bloggers who I love connecting with regularly.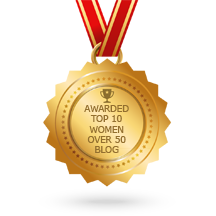 FAMILY-ING
Well, as I mentioned in my May Coffee post, we had some extra family time with our son, DIL and lovely grandbaby. Our son wanted to come down and go on a father and son hiking expedition - limited to two days due to time constraints. The weather wasn't looking great, but they decided they'd go despite the rain that was forecast (note the umbrellas).
Adventuring off on the Bibbulmun Track - Mumballup to Collie
Well, the forecast rain lived up to predictions and they were rained on for a good portion of both days (and the evening) but still had a great time - with lots of stories to share afterwards. Our son was also reminded (by his stiff legs) that he now sits at a desk far too much and isn't the teenager he used to be!
Sending the hikers on their way
Meanwhile my lovely DIL and I shared some retail therapy and lunch out at a little cafe (to eat the BLT she'd been looking forward to). After coming home, we talked about blogging, ate chocolate and watched a chick flick - so much better than all that rain and tramping along the Track. At least the men got to sleep in a semi-enclosed shelter (slightly better than a tent in the rain) but not as snug and dry as we girls were.
GRANDBABY-ING
I have to share a couple of pictures of the delightful Sophia - the first is from when she was unwrapping her belated birthday present from her Aunty and the second is from the send off of the hikers. She just keeps getting cuter!
STUDYING
One of the things I had listed to start on my Vision Board was some online studying. I signed myself up to a Writing for the Web course on Open 2 Study this month and am proud to say that I'm flying through it and learning little snippets here and there along the way. I was worried that it might be a bit hard on my brain, but surprisingly enough, it's turned out to be a breeze so far and I'm planning on diving into some more once this unit is finished.
TAI CHI-ING
Another item I had listed on my Vision Board was to start Tai Chi again - I'd been to classes a few years ago, but had forgotten all I'd learned. I found a class in our neighbourhood that was run at the Senior Citizens' Centre and the class prices were a bargain. I came to the slightly scary and somewhat depressing realization that I actually qualified to be a member! Apparently you are officially a "senior citizen" if you are over 50!!
Well, after taking a deep breath and not looking a gift horse in the mouth, I took myself off to my first Tai Chi lesson - a completely different style to what I'd done previously - more gentle and 'girly' but still very Zen and good for my co-ordination. I can't say I was completely on the ball with all the moves, but I didn't make a complete fool of myself and nobody was looking at me - they were too busy following the instructor. I'm definitely going back for more.
WATCHING
In between all the new stuff, I managed to fit in a date with my lovely husband. We're both Star Wars fans - I remember seeing my first Star Wars movie at the Drive In (remember those) with an old boyfriend when I was 16 in 1978! So FORTY years later I was back at the movies to see their latest offering: Solo - A Star Wars Story. It didn't get great reviews so we went with fairly low expectations and were pleasantly surprised with how much we both enjoyed it. We suspect there's another episode to follow because there was more back story to be revealed, so stay tuned!
THAT'S IT FOR NOW
Is there anything interesting happening in your world? Feel free to update me in the comments and I look forward to having another virtual cuppa with you at the end of July (the middle of Winter in Australia) and I'm sure there'll be lots to catch up on.
To keep up to date with my posts, feel free to add your email into the spot especially for it on my sidebar and I'd love you to share this post by clicking on a share button before you go xx