WHEN THE UNEXPECTED HAPPENS
Anyone who's been reading my posts over the last several months knows that I left my job in less than satisfactory circumstances. I'd pushed through for years dealing with a very difficult workmate who had a lot of issues that rained down on me while I tried to help, and also do my work efficiently. Ultimately it didn't end well (surprise surprise!) and I finally gave up and put in my notice.
The weeks and months after leaving were quite tumultuous because I needed to recover my equilibrium again, repair my sense of self, and then figure out what my new normal was going to look like. I was 57, unsettled, upset, and at a bit of a loose end. So many questions were whirling around inside my head as I tried to decide what I should do next - my first thought was to pull up my socks, get back on my bike and start pedalling hard again in the same direction. But, was that the best decision for me, or just a knee jerk reaction because I didn't know any better?
SOMETIMES THINGS TURN OUT DIFFERENTLY
It took me a few months to feel on top of things enough to make some sensible decisions. In the meantime I'd applied for a job, been hugely relieved when I didn't get it, and kept my eye on the Situations Vacant column waiting for more jobs to appear - but almost dreading the thought of putting an application together and risking ending up in another thankless job or working with another controlling, manipulative co-worker. To say the least, I was feeling quite unsettled and unsure of what to do next.
A large part of me felt that it was expected that I'd go back to work, that I'd get back up on the horse and keep trotting along doing what I'd always done. I worried that people would think I was lazy if I stayed home, that my family would think I wasn't pulling my weight, that financially we'd be in strife, and so many other external factors were coming into play. The one voice that I couldn't hear was my own - it was being drowned out by all the other assumptions I was making about the expectations of other people.
MEETING THE EXPECTATIONS OF OTHERS
Maybe I was more materialistic or consumer focused than I realized, because my thoughts all revolved around finances and how I should be out there, nose to the grindstone, contributing my share to the family income. I assumed that everyone else expected the same thing from me (and I'm sure a lot of my working friends did - but certainly not everyone).
I read this interesting quote from
Marc and Angel
that relates to how we allow our consumerist society into our heads and subsequently to dictate our worth:
When you find yourself trapped between what moves you and what society tells you is right for you, always travel the route that makes you feel alive – unless you want everyone to be happy, except you.

They'll try to measure your worth based on what you have, instead of who you are. But you know better than that – material things don't matter. Don't chase the money. Catch up to the ideas and activities that make you come alive. Go for the things of greater value – the things money can't buy. What matters is having strength of character, an honest heart, and a sense of self-worth. If you're lucky enough to have any of these things, never sell them. Never sell yourself short.
LIVING THE DREAM
It probably took six months, a lot of discussion with my husband, some input from my kids, some encouragement from an online counselor, and some cheering on from my blogging and IRL friends - before I finally realized that I was veering steadily away from returning to work. I had actually slipped quietly into a new normal that involved being home living a quiet life, and loving every minute of it.
Several years ago I saw this e-card and it was one of the first things I saved to Pinterest when I started my account there (40,000 pins ago!) Funnily enough, it popped up again the other day and I realized that I'd originally saved it because it was the unattainable dream - fancy being able to stay at home for no reason other than playing Mum to my cats... and all of a sudden, here I was, at home and doing just that. I'd ended up exactly where I wished I could be a few years ago and I needed to stop for a moment and take in the fact that I was actually living the dream!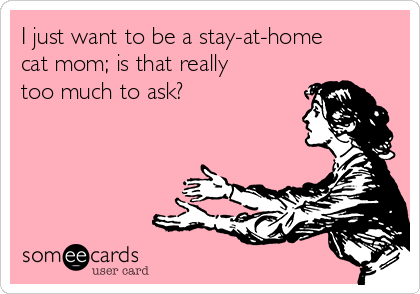 LOVING MY NEW NORMAL
The joys of my new normal are numerous. For starters I'm no longer stressed - I don't see quotes about stress and think "oh yeah - that's me" I see them now and can't believe that I lived like that for so long. I've lost 6 kilograms - I'm sure it's partly from less stress and less cortisols, but also because I have more time to exercise and I'm not comfort eating. I don't dread Mondays anymore - when I see the "Oh No it's Monday!" memes I smile and head off for my morning walk with a spring in my step (instead of being weepy at the thought of going into that awful workplace). I have more time to do the things I love, my timetable is completely flexible, I'm free to spend time with my family and friends, and I'm living the Unbusy life that I have always yearned for.
Once I stopped trying to return to the same old ways, doing the same old stuff, feeling the same old sense of soldiering on, life changed and it changed for the better. Being at home wasn't the lazy, boring, selfish thing that I'd thought it would be; instead, it's turned out to be exactly what my soul needed. It's given me the time and space to live a life of contentment and let go of striving, it's opened up a world I hadn't known I'd be allowed to experience in my 50's - and I'm grateful for it each and every day. I resisted the change that was forced on me, but when I stepped back and accepted it, I discovered a new normal that far exceeded what had come before. I'm almost grateful that I was forced to leave my job - it's not what I would have chosen to do, but it's led me into a far better place and I have no complaints what-so-ever.
WHAT ABOUT YOU?
Are you loving your life? Are you resisting change or letting it lead you into a new normal? Are you finding that life now is better than you expected or are you holding tight to old ways because you're afraid of what would come with letting go?
RELATED POSTS
To keep up to date with my posts, feel free to add your email into the spot especially for it on my sidebar and I'd love you to share this post by clicking on a share button before you go xx